Manure and humus
FERTILSTALLATICO – Odourless organic ameliorant
COMPOSITION AND CHARACTERISTICS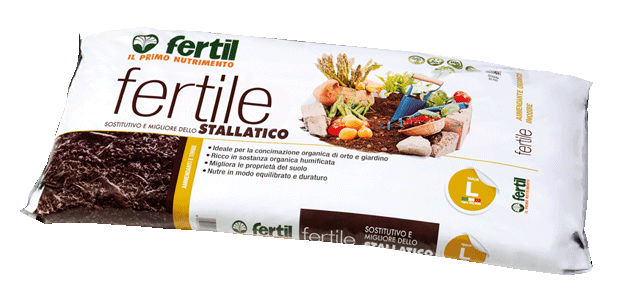 FERTILSTALLATICO Technology Solutions is a soil improver, a material intended to improve the chemical, physical and biological properties of soils. The optimum use is the incorporation to the soil during the ordinary practice of mechanical processing. It promotes the formation of a stable soil structure, improves soil aeration and ductility. The mineralization of the organic substance responsibleof the release of valuable elements of fertility for the plants nutrition. The recommended dosages are as follows:
– Soil processing: 5 kg per square meter;
– Planting: from 2.5 to 25 kg of the product at the bottom of the hole (in relation to the size of the planting hole).

Packaged items
| Code | Article | Confection | ean code | Pieces per pallet |
| --- | --- | --- | --- | --- |
| N081120010081 | FERTILE | LT 20 | 8007446916379 | 120 |
| N081048025081 | FERTILE | LT 45 | 8007446916362 | 48 |

Articles in Big Bags
| Code | Article | Confection |
| --- | --- | --- |
| 082060020081 | Ammendante SFARINATO | 3,4 mc |

Loose items
| Code | Article | Confection |
| --- | --- | --- |
| 083020045081 | Ammendante SFARINATO | |